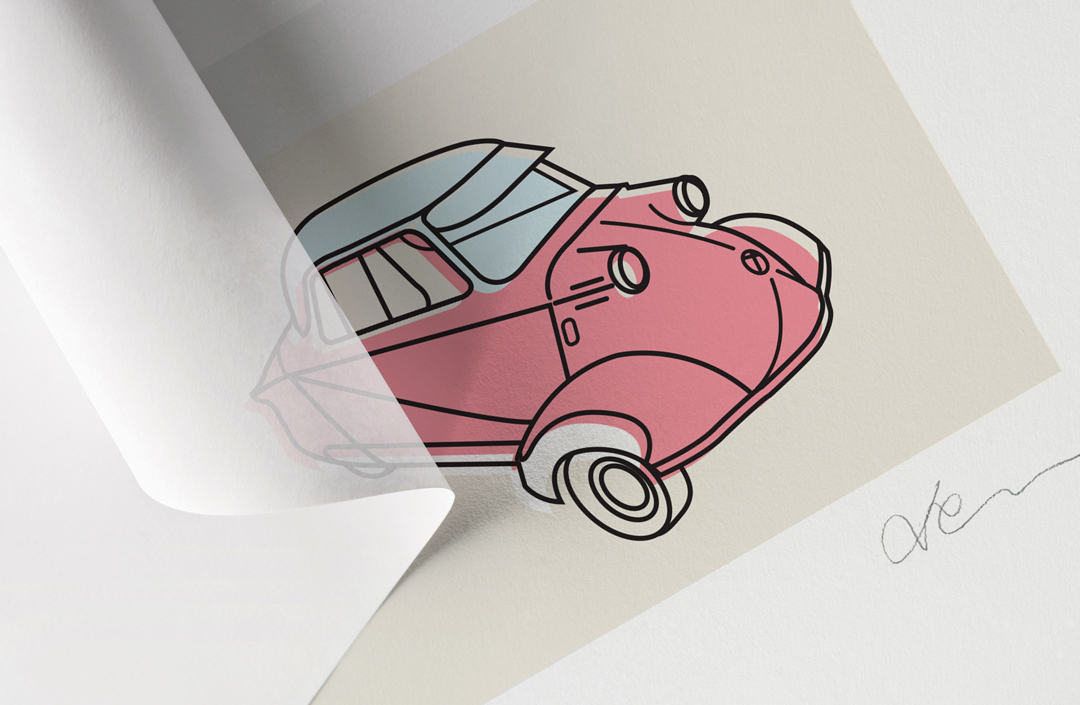 FAQ
We try to anticipate your questions with this section but if there is anything in particular you need to know, we'll be happy to give you the answer as rapidly as we can. Please feel free to contact us as needed.
What is a print?
A print is a method of image-making that allows an image to be created more than once.
What is a limited edition?
A limited edition is produced in a set limited quantity. Each piece in the edition is identical and is considered an original. Limited edition prints are generally more valuable because of the limited number available. Once an image is sold out, that edition is finished, in that particular size.
What type of paper is the Sidecar image printed on?
All prints are Digital Pigment prints on museum-quality acid-free papers. These papers are designed to meet galleries and museum longevity requirements and ensure consistency of shades for a 100 years.
What is the printing process used?
All prints are Digital Pigment Prints using the latest top of the line technology, archival high dynamic inks and 100 years old life paper.
Are the prints signed by the artist?
Yes each print is signed and numbered by hand, by the artist.
Will my print look identical to the image that appears online?
We try our best to have a correct match between what you see on screen and the final product you get delivered to your home. However we cannot be responsible for minimal differences deriving from reproduction techniques that may exist between the presented image and the print. Computer screens may also differ and the colour and contrasts of the image on the screen may not look exactly like what you receive. This is because different types of monitors are calibrated differently. However, each print is examined before shipping, to assure the quality of printing, colour and making sure that the paper is pristine.
Is the image size the same as the paper size?
Size of artwork on paper is based on sheet measurements; there is at least 2 inches of white around image. White space will vary depending on subject.
How do I care for my print?
Keep away from humidity and water. When framing, use acid-free elements specifically if they are in touch with the print, such as paper and glue. Kraft paper is very acid (hence the elaborate wrapping within the delivery tube) so avoid using it in framing or it will change the colour of the paper. In your package, there will be a pair of gloves for you to wear when unrolling your print, use them, so that your print can remain impeccable until framed. If you don't frame you art right away, find a safe, dry, spot, away from sunlight, to lay it flat until the framing day.
What about shipping?
Products ship directly from Sidecar, Montreal, Canada. Please note that we will need a minimum of 2 days to prepare and package your print(s) so that it gets to destination in perfect shape.
Each print is shipped in a tube with a personal story about each subject. Our prints are quite large which is why the shipping is a bit more. We are happy to ship almost anywhere in the world. The estimated domestic shipping fee is around $15.00 US and the international shipping fee is about $25.00, but it largely depends on the destination. Your shipping charges will be automatically calculated on our site. You will receive a tracking # via email to find out where is your package. We ship via Canada Post service.
Delivery Timeframe
Within the province of Quebec: 2 to 3 business days
Rest of Canada: 5 to 7 business days
USA: 4 to 5 business days
Other countries: 4 to 6 weeks
Returns
If your product is received damaged in the post, please notify us immediately and keep hold of the product and packaging. We will then advise you on the best course of action but will require a photo of the damaged item to claim compensation from the shipping provider.
Discover the entire Sidecar collection, the perfect collector's present.